Criterion welcomes engagement with all providers across the Equity Release sector, to collaborate effectively with their peers. This will ensure the API standards evolve and meet their requirements.
It's important that providers are involved at an early stage in the initiative to shape and position the standards to suit their own implementation activity.    
About Criterion
Criterion is the not-for-profit body that delivers Standards for process and data integration, making it easier for companies in the UK Financial Services industry to work together to serve customers better.
Criterion manages a suite of more than 70 Standards for API design and implementation, covering data integration points between organisations in the protection, pensions, retirement and investment sectors. We also support and manage other pieces of key collateral that simplify and remove friction from industry processes, including:
Criterion Common Declarations, which eliminate discharge forms from pensions transfers

Retirement Health Form, which helps retirees get right-first-time quotes for enhanced annuities
Criterion Standards are relied on by more than 100 manufacturers of protection, pensions, retirement and investment products. Our API Standards support more than half a billion business-critical quotation and valuation transactions each year, whilst the Common Declarations have helped take more than 400,000 years' worth of delays out of pension transfers for consumers over the last decade.
Why Standards for APIs?
API technologies have contributed to an explosion in data integration, making it easier and quicker to accelerate business processes by getting the right data to the right place at the right time; and technologies like JSON and OpenAPI have made development and deployment of APIs easier than ever.
But that doesn't mean that duplication and waste are any more desirable: it's still quicker and more cost efficient to build a service once and deploy it with many trading partners than it is to rebuild and refine it time after time to meet their differing needs.
That's where Criterion Standards come in. By working with key market stakeholders, Criterion defines Standards for APIs so that the data they contain, and how that data is structured and exchanged, meets the needs of the market as a whole. The result is that a single API build can be deployed with many trading partners, cutting out wasteful redevelopment.

API Standards for Equity Release
Criterion is taking on the stewardship of API designs for Equity Release Quotes and KFIs, initially created by Iress.
Criterion will publish those designs as industry Standards for wider adoption by organisations in the Equity Release market, whether or not they have a relationship with Iress.
Beyond this, Criterion is open to exploring opportunities to bring the benefits of standardised API integration to other processes in the distribution and servicing of Equity Release products; and we will work with sector stakeholders to develop a prioritised roadmap of future activity.
That said, our immediate focus remains bringing those benefits in respect of high-volume Quotes and KFIs processes to as wide an audience as possible.
Governing change to API Standards
API standardisation should never be thought of as a one-and-done activity. Instead, APIs need to evolve over time in response to change drivers like product innovation, market dynamics, technological advances, and regulation.
That's why all of our Standards are managed through collaboration with market participants and other stakeholders. Our governance process brings together communities that rely on the Standards to identify emerging change and development needs; establish what they mean for API integration; agree timelines for delivery; and achieve buy-in for adoption.
Our approach has been refined and proven across nearly 30 years of Standards activity, ensuring that our API Standards have continually kept pace with developments as diverse as the commercialisation of the internet, depolarisation, the RDR, the rise of investment platforms, and Pension Freedom & Choice.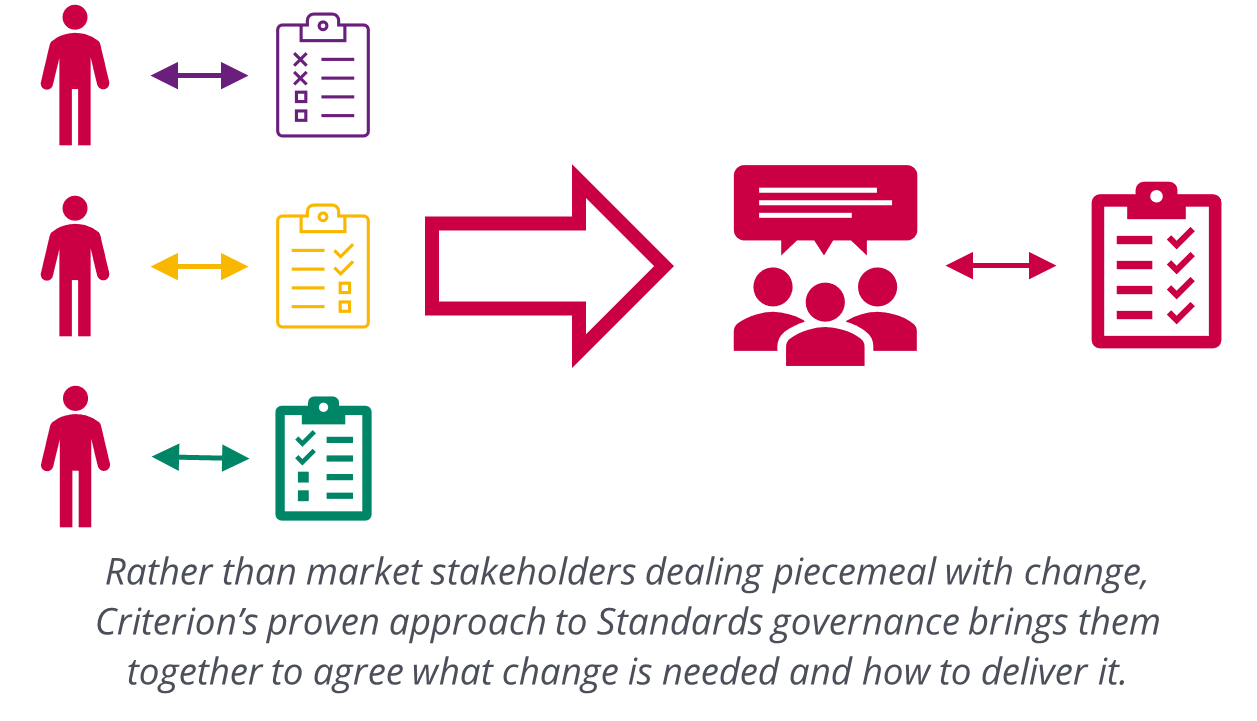 Funding Principles
Criterion is constituted as a not-for-profit organisation. That means that we aren't driven by the need to make money or to pay dividends to shareholders, but instead can focus on doing what will drive the greatest benefit to the stakeholders we serve.
It also means that we can't access sources of funding like risk capital, and instead need to make sure that we recover the costs of delivering our services from those who benefit from their use.
We use a variety of funding models across our activity; but we always look to find approaches that recognise the needs of the sector in question, and that offer equitable engagement to all stakeholders.
Find out more
Our team is always keen to talk about our Standards work, whether you need support for detailed implementation planning, or just want to learn more about who we are and what we do.
To find out more, please contact:
Nick Green Solutions Director
[email protected] | 07990 586832
Stuart McColl Sales & Relationship Manager
[email protected] | 07879 519708